On-product security and information solution combats massive counterfeiting and diversion problem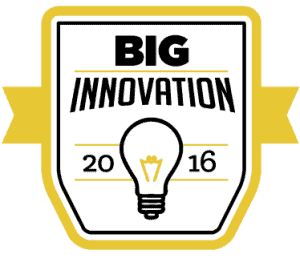 EMERYVILLE, CALIFORNIA ─ February 18, 2016 — TruTag Technologies, Inc., developer of an innovative, edible product intelligence solution addressing the trillion-dollar global counterfeiting and diversion problem, today announced that it has been named a 2016 BIG Innovation Award Winner. TruTag joins the company of 46 elite businesses in this annual business awards program, which recognizes those who have brought new ideas to life and seek to change the way we all experience the world.
Last November, TruTag Technologies augmented its groundbreaking security solution with a first-of-its kind debut: a hand-held, high-performance optical detector. Employing advance satellite imaging technology, the Model 4100 detector can authenticate thousands of medicines, electronic components, industrial parts, packaged goods and other items marked with TruTag® microtags in a matter of seconds, extending its authentication and security abilities to industries with high-volume and high-value—often life-critical—products, parts or components. The solution is now poised to change the future of product authentication – across multiple industries.
"This year we saw new innovations from virtually all industries. It is clear that the role of technology in improving business results and consumer experiences is accelerating," said Russ Fordyce, managing director of the Business Intelligence Group. "We are thrilled to be honoring those who are leaders in the business of innovation. This year's winners are an amazing group of organizations that are laser focused on improving the daily lives of so many."
"At TruTag, we recognize that innovation plays an important role in our company's success. Our team pride themselves on finding answers to challenging–often life-critical–problems, and we are constantly looking for new ways to improve our technology solution," said Kent Mansfield, President of TruTag Technologies. "Innovation has been a constant driver for our company, so it is a true honor to be recognized for it."
About Business Intelligence Group
The Business Intelligence Group was founded with the mission of recognizing true talent and superior performance in the business world. Unlike other industry and business award programs, business executives—those with experience and knowledge—judge the programs. The organization's proprietary and unique scoring system selectively measures performance across multiple business domains and then rewards those companies whose achievements stand above those of their peers.
About TruTag Technologies
TruTag Technologies has developed a covert, low–cost, heat–resistant, and edible silica microtag that serves as an edible on-product code and can be incorporated into solid, oral-dose medications as well as other materials and products. This on-dose technology platform can be used for brand protection, detection of diverted products, counterfeit prevention, improved tracking and authentication, efficiency in clinical trials administration, informatics for product and component tracking through the supply chain, and product quality assurance. The unique physical properties of TruTag microtags provide a vast library of available unique codes, which allow for tracking of high-volume, high-value items at product or even batch levels. This serialized business information tool can be used in a variety of markets such as pharmaceuticals, nutritional supplements, food, electronics, industrial components, consumer goods, and medical devices. Learn more at www.TruTags.com.
TruTag Technologies, Inc. is a Technology Pioneer, as selected by the World Economic Forum. This prestigious honor was awarded to the world's most innovative and influential technology companies with the promise of significantly impacting the way business and society operates.
TRUTAG and TRUTAGS are registered trademarks of TruTag Technologies, Inc.
©2016 TruTag Technologies, Inc. All rights reserved.
Media Contact
TruTag Technologies, Inc.
Paula Page
paula@paulapagepr.com
650.279.3881